News & Fishing Reports

2023
Early June Report

Menominee River smallmouth bass action was consistent the first 2 weeks of June
Smallmouth have completed spawning and are foraging on crayfish.
Due to the lack of rain the water level is falling on the Menominee River. So use caution! Although this can hinder navigation it can also result in great fishing. Smallmouth are hitting a variety of presentations. I am still using my 3.5″ River Swimbaits to locate smallmouth and follow up with a Case Magic Stik or a Case Wacky Jack on a 1/0 Spearpoint Finesse Hook rigged Wacky Style. Soft plastic jerkbaits like Case Sinking Shads are productive when fishing shoreline wood or weeds. The topwater bite has been sporadic but will improve as summer progresses.
May Smallmouth
2022
October 1 Report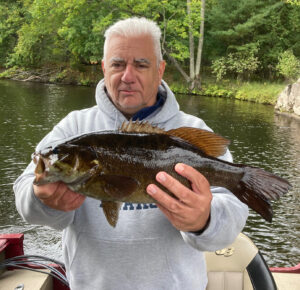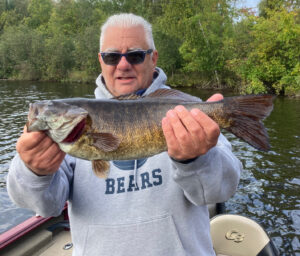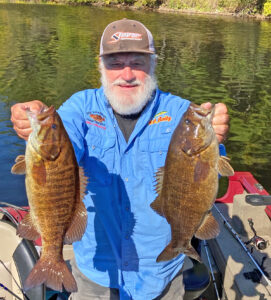 Water levels on the Menominee River are low and the water is clear
due to the lack of rain. However, the fishing has been fantastic and
it should continue through October. Smallmouth are stacked up and on the feed.
Swimbaits, Case Sinking Shads and Sinking Minnows along with live
minnows are all producing big smallmouth.



September 22 & 23 Report


I fished for 2 days with Mike and Allison and they had a fantastic time
catching big Menominee River Smallmouth. Smallmouth were
stacked up and on the feed big time! What a great time on the river.
They will return next year.
September 16 Report

The Gansers' found out that the hot smallmouth bait on the Menominee River
is a Case Sinking Shad rigged on a 4/0 Spearpoint Wide Gap Hook!
It got a bit crazy when a 40″ musky crushed a Sinking Shad at Boatside.
A great fight on a medium action Grandt Rod in the swift current.
The VGrip of the Spearpoint Wide Gap Hook held the musky in place
even after a few jumps. It is my go-to bait when smallmouth are feeding
on minnows. As the water temp dops the smallmouth bite will intensify.
September 9 Report


Great Topwater action this week!
Smallmouth were feeding on minnows but they could
not refuse a prop bait. Lots of quality smallmouth.
September 3 Report
Smallmouth action on the Menominee River is great!
Lots of topwater action with prop baits! The larger smallmouth
are feeding on baitfish in the grass so a Case Sinking Shad
rigged on a 4/0 Spearpoint Wide Gap Hook is the ticket. Another
hot bait is a Case Sinking Minnow nose hooked with a 1/0 Spearpoint
Finesse hook.
August 13 Report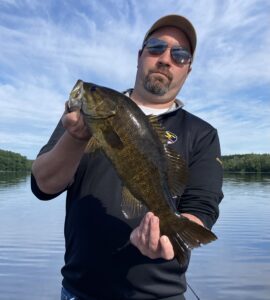 Smallmouth action remains good on the Menominee River. The topwater bite varies
each day, depending on the weather and smallmouth temperament. When the
topwater bite shuts down a combination of Case Magic Stiks, 4″ Jacks Worm,
Swim Baits, Case Sinking minnows & shads will get the job done. Most of
the larger smallmouth are in the grass feeding on minnows.
Looks like we are moving into an early fall pattern.
---
July 29 Report
---




A few minor cold fronts slowed the topwater bite, but under stable weather the
topwater bite was good. When Smallmouth scattered swimbaits were the ticket.
Once we located smallmouth Case Magic Stiks, Jacks Worms, Wacky Jacks and
other plastics all produced. August is historicly fantastic for Topwater on the
Menominee River.


July 19 Report



Smallmouth bass remain in the summer pattern which spells consistent action.
When they are feeding on crayfish in the rocks, Case Magic Stiks rigged
wacky style on 1/0 Spearpoint Finesse Hooks are the ticket. When fishing grass
and wood Topwater or Case Sinking Shads are the way to go. Consistent action
will remain throughout the rest of the summer. The TOPWATER ACTION in
August is Fantastic!
July 10 Report
Smallmouth Bass are in their summer pattern.
The topwater Bite has been awesome this past week! Fish the grass
and wood with prop baits and hold on. Cover water and don't camp
on a spot. Swimbaits, Case Magic Stiks, and Case Sinking Shads are my
Go-To baits when the topwter bite slows.


June 4-June 11



The key to locating post-spawn river smallmouth is finding food. This past
week we caught quality smallouth on the Menominee River. They were feeding
on crayfish, often a short distance from spawning areas. A Case Magic Stik
rigged Wacky Style on a 1/0 Spearpoint Hook was the ticket. Other hot baits
included Case Jacks Worms, topwater and swimbaits. Find food and you will
find river smallmouth!
May 24-25-26, 2022


Even with dropping water temps, Rain and High winds
Paul and Brian managed to catch quality smallmouth on
the Menominee River and High Falls Flowage. Swimbaits,
Case Magic Stiks and leeches got the job done!
May 20, 2022
Judi Erickson with 2 big Menominee River Smallmouth. One Fish was caught
on a Case Magic Stik and the other caught on a swimbait!
May 13, 2022
Tough fishing in the morning due to the cold weather and drop in the water
temp. The sun warmed the water temp to 55 degrees and by late morning
the smallmouth were crushing swimbaits. A Great day on the Menominee River!
2022 Sport Show & Seminar Schedule
Northern Illinois Sport Show
Jan 13-16
Grayslake, Il
Visit website
Central Wisconsin Sport Show
February 11-13
Wausau, Wi
Visit website
Fishing & Boating Outdoor Show

February 18-20
Marinette, WI
Visit website